Where to Find Entrance to Dawn of the Infinite?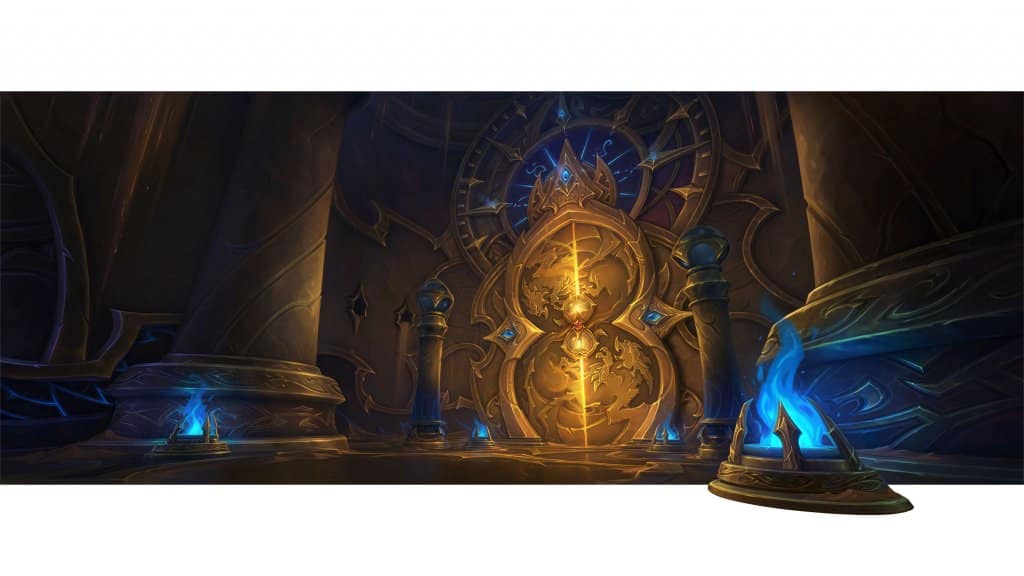 A new Mythic-only mega-dungeon featured in the Fractures in Time patch will take players across the timeways to stop Infinite Dragonflight from transforming Nozdormu into Murazond. Sounds epic, right?
So, for anyone curious about how they can enter Dawn of the Infinite to complete this mission, the entrance may be found in the Temporal Conflux in Thaldrazsus, where a gigantic bronze gate stands with large spikes surrounding it.
Now that you know how to access the newest dungeon, let's take a closer look at those we'll meet there.
Dawn of the Infinite Bosses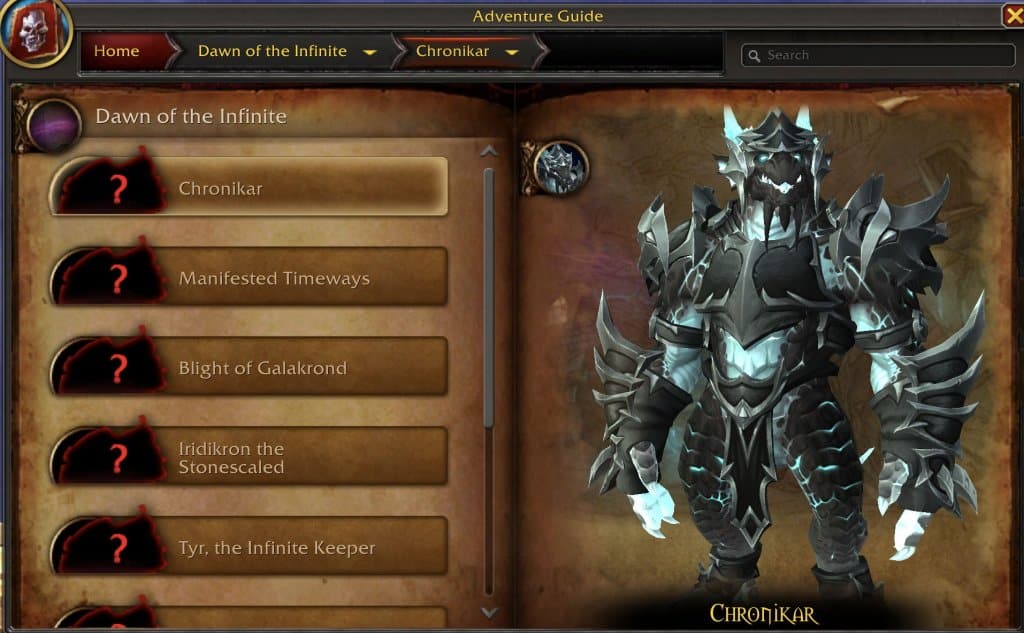 The first one who will stand in our way is Chronikar. Fanatically serving her entire life to Infinite Dragonflight, she eventually became a commander and is now ready to eliminate anyone who opposes her. When it's time to fight her, be ready for the following abilities.
Ability

Description

The boss leaps into the air and falls near a player, inflicting Arcane damage within
18 yards, which causes time fluctuations in the form of Eon Fragments and
Eon Residue

Residual time energy surges into players within 2.5 yards of the residue's impact.
It deals 55,814 Arcane damage every second for 8 seconds. If this effect does not
affect a player, it explodes in a

Residue Blast

Timespace fragments explode, dealing damage to those who get hit by them

Chronikar uses an axe to cut the lifespan of her target and knock them back,
causing

Sheared Timeline

and inflicting Physical damage. The strike also makes
the target absorb 291,836 healing received and cannot be dodged or parried
Manifested Timeways
The next encounter is, as you could guess, the manifestation of the sands of time. It's an ancient being that protects the Timeways, and she won't let anyone put them in danger. These abilities are meant to help her with that.
Ability

Description

Shifting fields of time energy surround the Manifested Timeways, applying
Accelerating Time or Decaying Time

Affected players lose connection with the time and receive 6566 Arcane damage.
In addition, the effect reduces the flow of time of an afflicted target by 5%,
reducing movement speed, casting and attack speed, cooldown recharge rate, and
periodic tick rates

Expedites connection to time, dealing 6,566 Arcane damage every second and
increases the flow of time of an afflicted target by 5%, increasing movement
speed, casting and attack speed, cooldown recharge rate, and periodic tick rates

Weakens targeted players, inflicting Arcane damage for 30 seconds. The effect's
frequency is enhanced when

Accelerating Time

is applied. After expiration or
dispel,

Chronofade

is released

For 7 seconds, it pulls time from both the future and the past, emitting pockets
of time, dealing 65,663 Arcane damage when contacting players, and inflicting
extra Arcane damage for 6 seconds. The pockets traverse slower when Decaying
Time

is applied

Releases time energy toward a target, dealing 0 Arcane damage twice to players
in front. For those who are under

Decaying Time

, the second effect is delayed

Time magic is radiated when the current target is out of melee range,
inflicting Arcane damage that's increased by 15% every cast
Next on your way will be primal dragons revived by necrotic energies from Galakrond's corpse. You will fight not just Blight of Galakrond abilities but also these creatures:
Dazhak uses the power of flames to deal with its enemies. 

Ahnzon is ready to demolish everyone with the power of a storm.

Loszkeleth will smite its targets with cold.
Ability

Description

The life essence of the player in the front cone is taken by Blight of
Galakrond, which deals 439,942 Physical damage. The effect reclaims
Corrosion from hit players

Toxic corruption pours out of the creature during the battle, making this
effect spread on the floor and draining energy from the creature

Blight of Galakrond tries to pull players into

Blight Seep

, sending volleys of tornadoes
with dragon's storm powers. The tornado deals 196,989 Nature damage to
players hit by it

Like Ahnzon, uses abilities of Blight of Galakrond and Necrofrost

With the dragon's power, Blight of Galakrond roots players and decreases
their movement by 20% until the effect is destroyed

Using the power of Dazhak, Blight of Galakrond deals Fire damage
0.5 seconds to players in front of the dragon and damages

Necrofrost

With the dragon's power, Blight of Galakrond spits blight at a player,
inflicting 19,699 Nature damage
Iridikron the Stonescaled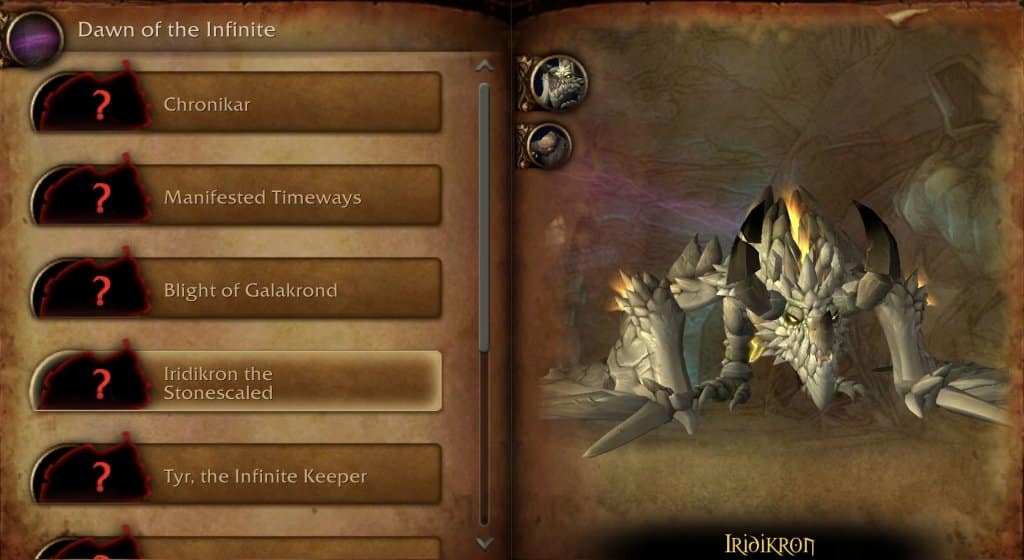 The fourth encounter is Iridikron. Being the most powerful of the Primal Incarnates and infused with elemental earth magic, he intends to overthrow Aspects and put an end to the Titans' influence. Though the details of his plans are unknown, the heroes of Azeroth need to stop him. But beware of his power.
Ability

Description

The boss releases a blast at a player, dealing massive Nature damage to those
within 20 yards. Hit players receive extra 39,398 Nature damage every second
for 10 seconds. The effect is followed by

Stonecracker Barrage

, which triggers


Stonecrack

Iridikron protects himself with a shield that absorbs 2,918,357 damage. During
this time, he sends a wave of earthen power that inflicts Nature damage to
all players and causes

Rending Earthspikes

, which, in turn, causes

Punctured
Ground

The boss slams his wings and releases a breath of stone, dealing 3,283,152
Nature damage to those who are hit and those who are under him within
28 yards. Also, the wings slam causes

Pulverizing Creations

Iridikron's Creations emerge from the ground, inflict Nature damage to players
within 5 yards, knocking them away, and launch

Stonebolt

With this stacking effect, the boss overwhelms his target by landing a melee attack that
increases Physical damage by 25% for 3 seconds

Assessing opponents' strategy, Iridikron increases his confidence. Once it reaches 100,
he releases

Cataclysmic Obliteration

challenging Chromie
Don't Let Any Boss Defeat You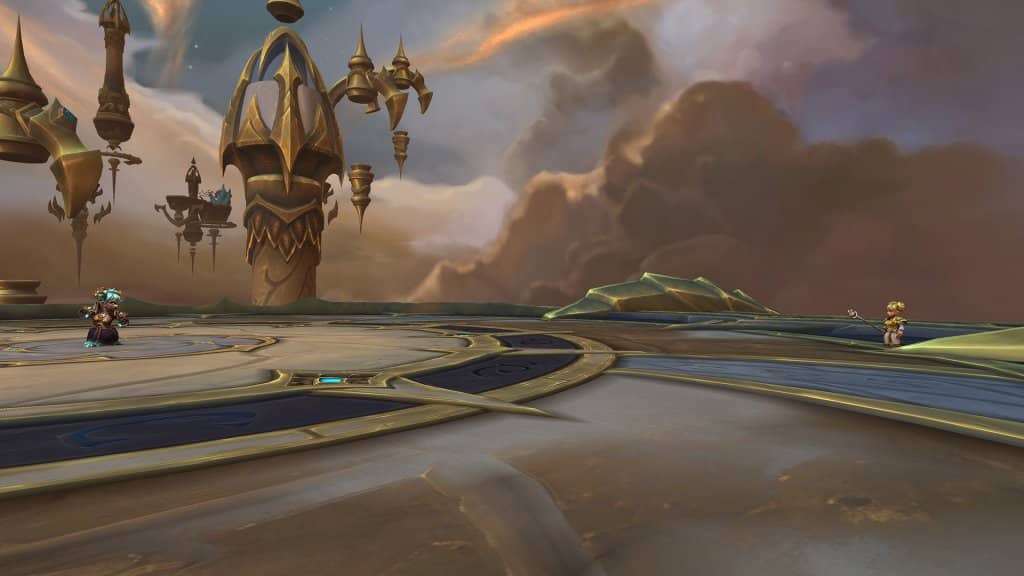 Well, it looks like we'll have some heated battles when Dawn if Infinite becomes available. Iridikron seems especially dangerous with his set of lethal attacks, but you know what can help you succeed in a fight against him (and against any boss)? Powerful gear and a reliable team, each of which you may find here at LFCarry. 
We offer a vast range of services that will meet all your in-game needs. Whether you need to quickly level up, acquire the coveted item, run dungeons, or get help with gold farm, we've got you covered! 
So, if you need or want any of that, make sure to visit LFCarry and let us know how we can help you in the live chat!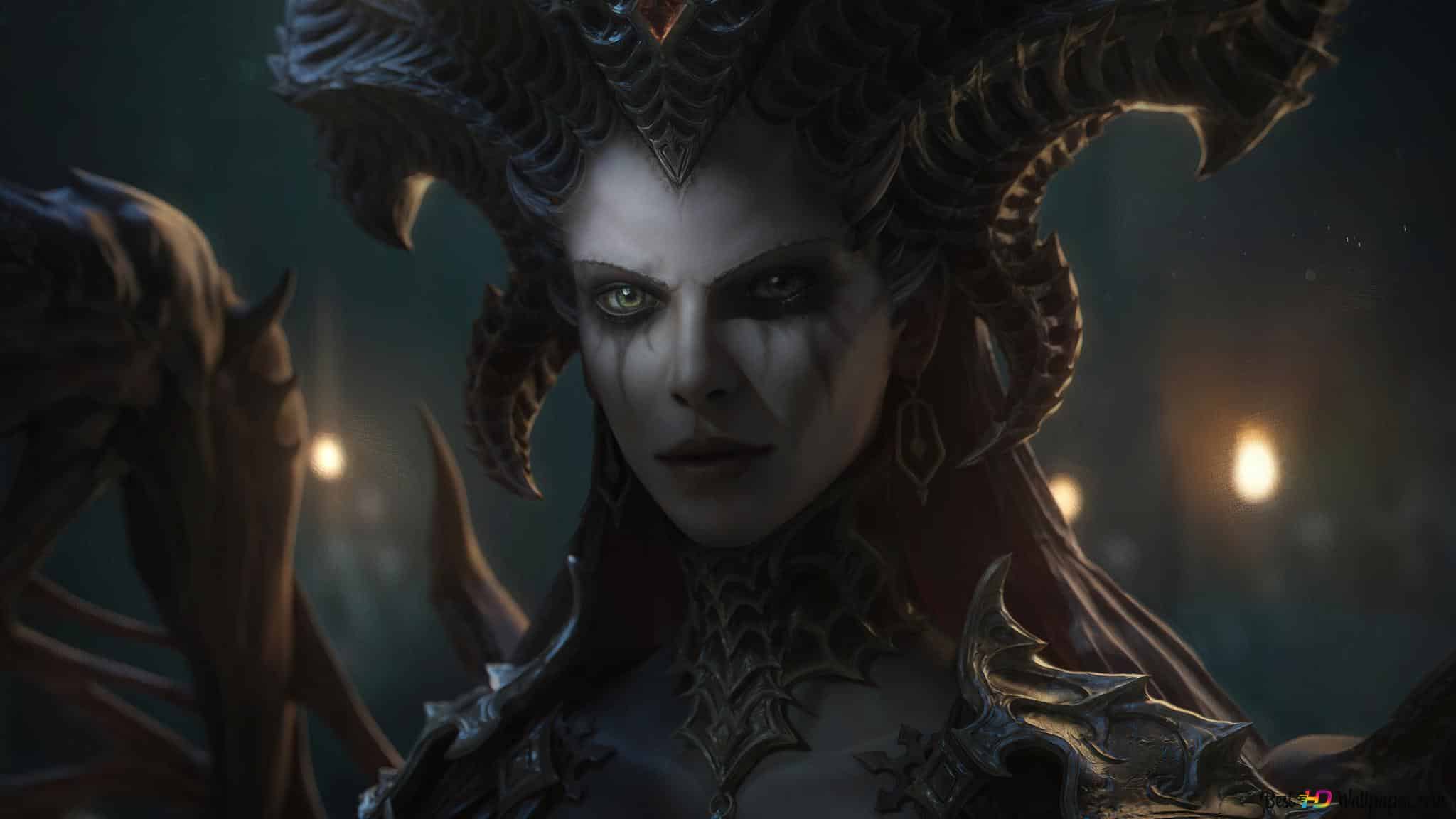 Beneath the shadows of menacing monsters and between the echoes of clashing swords, a new saga unfolds in this action RPG, Diablo 4. This online …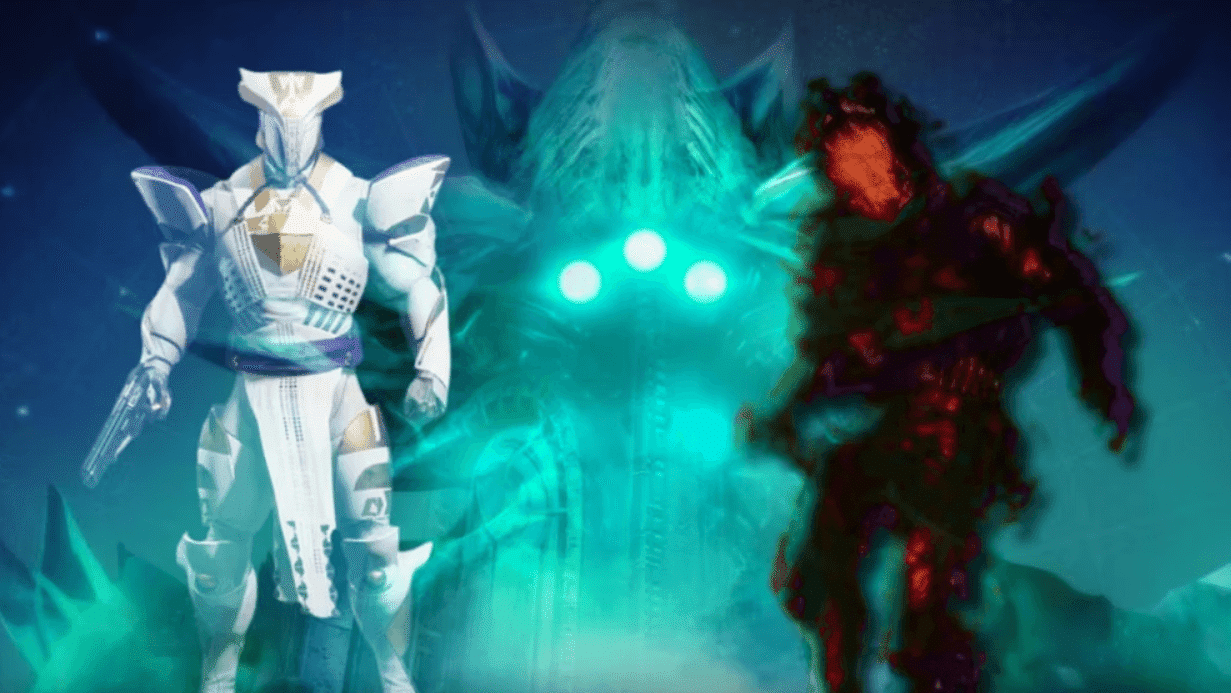 The Final Shape promises to enrich the game's narrative and gameplay dynamics. That, along with the introduction of new content and the return of fan-favorite character Cayde-6, adds a layer of excitement and intrigue to the forthcoming year. However, this returning Raid could potentially stir controversy in the community in 2024.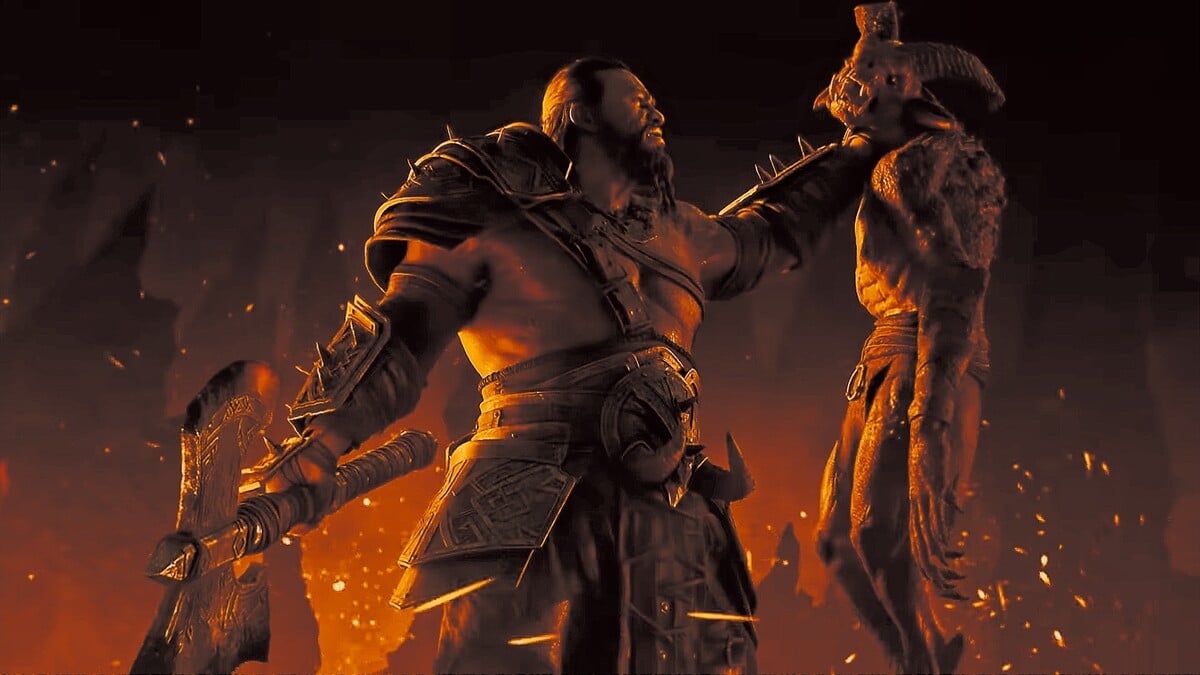 The Barbarian, the avatar of strength and combat in Diablo 4, undergoes an innovative transformation. Blizzard Entertainment has introduced a new facet, the Arsenal System, …